Trash To Treasure
Miss Aggie
I found this less than to be desired solid wood hutch at one of my favorite thrift stores "Restore"
Look at this original hardware......
It was all rusty and needed some serious help. But oh my, you can't buy hinges that look like this with the rope detail.
Look at the date on these pull knobs...... 1967.......
I was not even in Kindergarten yet.
So Hubby and I took this girl home, took her apart and stripped the paint off the two shelves and I stained them a warm walnut.
we removed the ugly, Uh, bulky corner round molding.
After starting this project, I thought self, you have bitten off more than you can chew.
Honestly, when I saw her in all her solid wood dirty glory standing in the restore isle, with her quirky curves, along with her 1960's contact paper on the shelving, I was smitten, I saw beauty......
I knew what she could become after her transformation.
Mr. Color It Simple said you see something in this ugly duckling. REALLY?????
I said REALLY!!!!! I know she will be a one-of-a-kind unique show stopper........
WE can transform her in to a beautiful loved vintage piece.
He agreed ...............so off we went
This piece had not been factory made, it had been hand made which excited me even more.
After all the cleaning and boy this piece was disgusting she was sanded and painted.
I painted her a beautiful shade of Marlboro blue From Valspar.
That would be the color on the bottom shelf above. It was not what I had in my vision but it was a start.
We painters know it is all about the layers.
Being that this marlboro blue was to baby bluish for my vision, I dry brushed her entire body with another shade of blue-grey.
Now we are getting somewhere........
After that step I distressed then glazed her with a warm walnut, then waxed to finish her off
..........now it was time for the details.
Yes details all wrapped up and topped off like a beautiful bow on that special gift.
If you noticed the walnut stained rope molding above, I added this to her sides to set her off.
At this point she is beaming with pride.
However, she needed some more jewelry.......
A Necklace? that's it a Necklace........ she was adorned with two wooden stained embellishments in the center of her curvy shelving.
Last but not least she was screaming for some designer fabric.
Aggie wanted to feel oh so elegant and shabby all at the same time.
Instead of painting the back piece of wood, I covered her in a beautiful cream and black printed French Typography print.
Now she was ready for staging.
Standing tall in all her glory, ready for her runway debut on Etsy for the world to see.
Even down to the pretty embellishment that were added to grace her two doors.
A little sanding her hinges and some brushed oil broze spray paint she looked polished.
A ton of hard work and love went into Aggie's transformation.
I love Aggie, she turned out beautiful.
Aggie is up for SALE, Now she is waiting for someone to love her as much as we do and take her to her new home.
You can find her in Etsy at my shop "The Distressed Nest"
So what do you think?
Sharing at,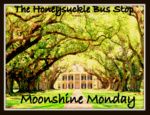 Until next time,